ACADEMIC STAFF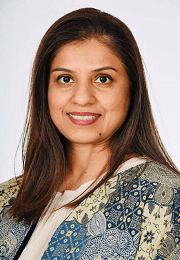 Fatima Azhar Classroom Teacher
My name is Fatima Azhar and I am very excited to be the class teacher to the three to four-year-olds at Little Haven Nursery. I arrived in Abu Dhabi with my family seventeen years ago, and have been living in this beautiful city ever since!
I am a qualified EYFS practitioner with over 15 years of teaching experience working with different age groups, including pre-school, elementary, and high school students.

My main role as your child's teacher is to ensure that we at Little Haven Nursery are fostering a warm, nurturing yet safe environment that best enables the social, emotional, and behavioral development of all young children. My creative lesson planning and skill-building activity program also aims to promote quality interactions that allow each child to fully express his or her ideas and feelings, as well as support and encourage critical school readiness skills.
I've got an exciting year planned, and am looking forward to getting to know each and every one of you as we explore lots of fun learning and play every week!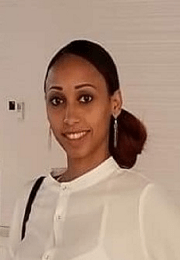 Soraida Cepeda Classroom Leader
Greetings Dear parents,
My name is Soraida Cepeda, it's my pleasure to introduce myself as the lead teacher for Curios Lions Class.
I have lived in the UAE for two years, I relocated here from the USA with my family. I'm a mother of three children. I have been working at a nursery in Abu Dhabi for two years until now. I'm very passionate about my work. I have been in Early Year Education for over 10 years, I received my Child Development Associate in 2015. I always like to better my education to provide the children under my care the best help for their development therefore, I received my Special Need Education Certificate in September 2021.
I believe that children learn through play and I'm looking forward to working with you to help on the development of your children, my main goal is to build a bond with each of them and create an environment where the children feel happy, loved, and encourage to learn.
Please feel free to contact me anytime on the Parents Application, our main communication channel, but bear with me if I'm not replying right away as my main attention will be on the children.
Looking forward to meeting each of you.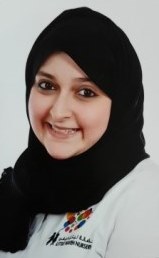 Amna Taher Classroom Leader
"
My name is Ms. Amna Taher and I am so excited to be your child's teacher this year!! I am holding a bachelor's degree in Business Administration from India then I decided to start my career in education by completing the CACHE Level 3 Diploma for the Early Years Workforce Early Years Educator and CACHE Level 5 Diploma in Leadership for Health and Social Care and Children and Young People's Services England. I have been working as an early year educator since 2013.
I enjoy being with the children helping them grow step by step and I am passionate about my job because of the creativity in learning how we can teach and enrich the children's environment through play. My main goal in teaching is to help the children be independent learners and inspire their curiosity and motivation to learn.

If you have any questions or concerns, please feel free to email me at any time:Amna.taher@littlehavennursery.ae. I am looking forward to this year – it's going to be great!"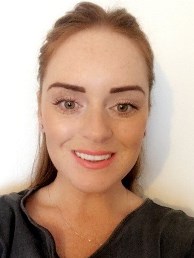 Kirsty Hughes Classroom Leader
"
My name is Kirsty Hughes and I will be your child's teacher this year as "Bubbly Butterflies" Class leader. I have lived in the UAE for the past 5 years and graduated from College in the United Kingdom with CACHE Level 2, Diploma for the Early Years Practitioner & Level 3, Diploma for the Early Years Workforce Early Years Educator NVQ in childcare, Learning, and Development in 2011.
I am also holding Level 4 in Special Educational Needs and Disability (SEND) Leadership and Management in the Early Years. I have worked and trained in Childcare since I finished school at the age of 17 years. My experiences are gained from working in many schools and nurseries across Abu Dhabi and My main strength as a teacher is building a safe, happy, and fun learning environment for my class by building outstanding relationships with children, parents, and co-workers.
In my spare time, I love to travel, swim and exercise and I have a lovely cat called "Snuggles".
You Can contact me via email: Kirsty.hughes@littlehavennursery.ae. Looking forward to welcoming you and your children to start an exciting learning journey."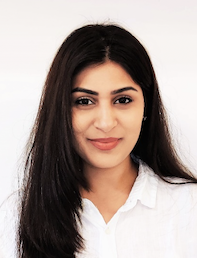 Ms. Sabiha Class Teacher
""My name is Sabiha and I am excited to teach your children as the "Precious Fawns" Classroom Leader!

I relocated to the UAE from the United Kingdom 5 years ago and have experience working with children for 3 years. I was previously teaching at a school in UAE and have experience teaching online during COVID, I am also a mother of one child and enjoy organizing or joining children's playdates around the UAE, planning different fun learning activities.

I'm currently in the process of completing my "Cache Level 3 - Diploma in Early Years", I have studied child development as early as the age of 16 as part of my GCSE, I also have a creative background in art, which I would love to implement into your child's learning process.

I promote a fun and enjoyable experience for children to learn through play, which I believe is the best way for a child's holistic development.

I believe in maintaining close contact with parents and look forward to sharing their amazing experiences with you, providing regular feedback on their behaviour, eating habits and development. My aim is to provide a warm, soft, safe, and loving experience for your child, ensuring all their needs are met.

I am delighted to be a part of Little Haven Nursery; I look forward to building a relationship and supporting your child through this amazing journey. "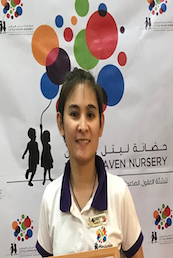 Christian Flores Dolorosa Class Leader
"Hi My name is Ms. Christian Flores Dolorosa, I'm going to be your child's Teacher Assistant and I'm so happy to meet and welcome you all in our Nursery. I know this is going to be a great year for all of us to grow and learn together. I hold a Bachelor Degree in Elementary Education, Specialized in Early Childhood from Pamantasang ng Lungsod ng Pasig, Philippines.

I have been living and working here in the United Arab Emirates for thirteen years now and this is my second home already. I worked for 5 years as a kindergarten supervisor in a nursery in Dubai and I have been working for seven years in Little Haven Nursery.

I am a passionate and energetic teacher and I love to make lessons fun and engaging for the students."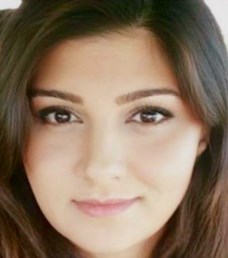 Nathalie Nassar Shining Unicorns Classroom Leader
My name is Ms. Nathalie Nassar and I will be your child's teacher this year. This will be my third year teaching at Little Haven Nursery and I am so excited to meet your children and We are going to have lots of fun while learning.
I moved to the United Arab Emirates in 2009 where I worked at Sabis International School (Choueifat) and Adnoc School of Abu Dhabi. Before moving to Abu Dhabi, I worked at Bright Beginnings Nursery at the American Community School of Beirut (ACS) as a classroom teacher for 5 years. As a preschool teacher, I work with the students at their own pace as each child is different.
I'm holding a CACHE Level 3 Diploma for the Early Years Workforce Early Years Educator. I am passionate about teaching and enjoy providing my
students with motivational and creative learning
environment.
In my spare time, I love to read, listen to music and play basketball.
You can write to me at: nathalie.nassar@littlehavennursery.ae. Looking forward to meeting you and your little ones very soon.